About Me
Welcome to my humble corner in the world of TS1 custom content!
View my complete profile

Monday, April 6, 2015
Posted by

olena
at 6:41 AM
0 comments

Add to your dictionary a new term – nordic chic! Also it is often called scandinavian modern and even though it isn't actually so new – still very trendy. It uses a lot of fair woods and raw natural materials, muted tones, graphical prints, industrial fixtures, mid-century design icons and ethnic finds from all over the world. Throw here a couple of vintage furniture pieces along with some IKEA accents from their latest catalog and that will be it! Simple, clean, somewhat minimalistic, highly functional, clever and slightly ironic. The best background for nordic style rooms are pure white or grey painted walls and light wood floors everywhere except the bathroom, though raw concrete also goes well with it.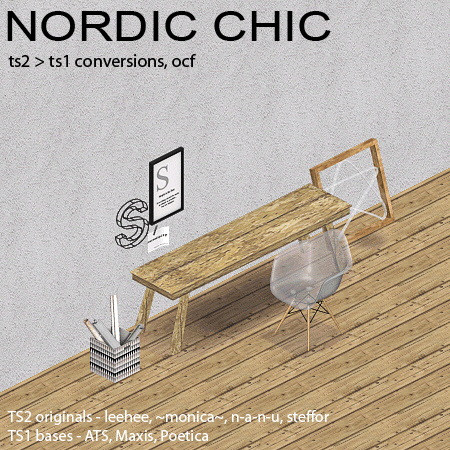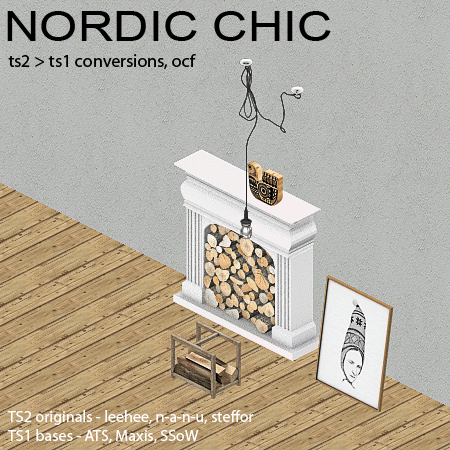 A framed star actually is a lamp. Take a look in game, how nice it glows in the dark! I've mistakenly labeled it as a floor lamp, but it can be placed on surfaces as well. Faux fireplace is... a table, lol! You can place up to 4 items on it. Light bulb, as it's based on SSoW's Anywhere lamp, doesn't need floor support. Chair is a normal chair and table is a table (dining, desk, sideboard, whatever). Other items are purely decorative.
I'm in love with this style and will bore you endlessly. You've been warned! ;)
Posted by

olena
at 6:36 AM
3 comments

Labels: converted, lamps, nordic chic, objects, paintings, posters, sculptures, seatings, surfaces, The Sims 1, wall-hangings