A special edition of Brit Madness, dedicated to one of the best ever TV-series - "Sherlock" (BBC). Here you have some significant items from sitting room on Baker Street 221b. Will be continued someday...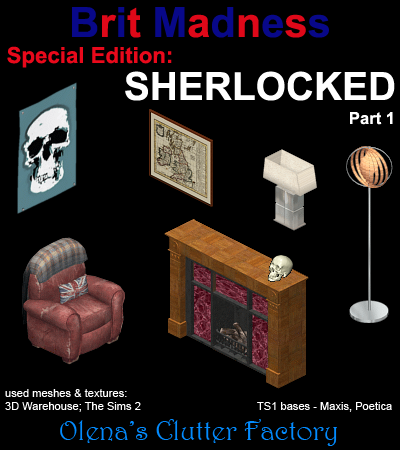 The fireplace is... a normal working fireplace, though the fire isn't animated. And you can place up to 4 objects on its mantle.
Attention!
I'm pretty aware of the fact, that these objects are _not_ an exact replicas of what can be seen in the show. So any comments on this matter will be not very welcomed. I did my best to recreate them for The Sims as close as my abilities allow and it took me 2,5 years to complete.
I would be happy to give a proper credits to the author (or authors) of fireplace and skull 3D-models, but as I've started this set so long ago, now I can't find any heads and tails. So if you know, who's made them or they're yours - please, let me know.